In the clip below from Glazier Soccer Clinics  Tony Massie, a Celtic Soccer Academy coach, leads a Conditioning Game drill as part of his Attacking in Congested Areas demonstration.  Coach Massie is an experienced coach in youth and academy soccer with his current role as the International Soccer Academy Manager for Celtic Football Club.
This drill is set up with two teams of 5 v 5 plus goalkeepers.  The field is approximately 50 yards in length and both teams are playing to big or full size regulation goals.  There are two square boxes marked by cones in each attacking half of the field.  Both teams must go through these boxes with a pass before taking a shot and trying to score.  If one team scores a goal, they are rewarded by keeping possession of the ball starting from their goalie or defensive backs.
There are several important coaching points in this drill:
1.Depth
Both teams need to create depth with their forwards in order to be effective.  Teams will get caught playing too much in their defensive half and need to understand that a forward can create tons of space by staying up top and being a target player for their teammates.
2. Spacing
All players on the field need to understand spacing and how they play a role in proper team spacing.  Make sure there is an emphasis on players playing their position and creating a good shape.  If everyone is on one half, side, or corner of the field, the spacing is not good and needs to be addressed.
3. Central players in box
The central midfielders and central forwards for both teams should be primarily working the cone box to get the required pass before trying to score.  Coach Massie makes a point that these players should always be looking for passes and working this part of the field, which matches up with the responsibilities of their positions on the field.
For more information about gaining access to Coach Massie's entire presentation, as well as hundreds of other presentation, click the link Glazier Vault
Below the video I have included  links to two free ebooks that contain many other soccer conditioning drills
Click on the images below for access to these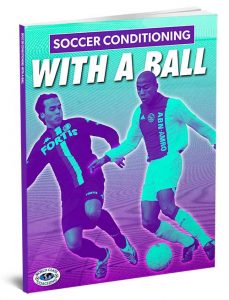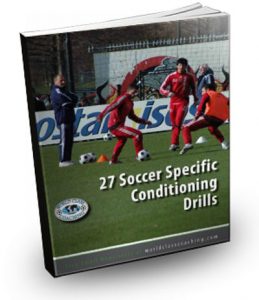 Free eBooks courtesy of our friends from World Class Coaching