By Brendan Hall
In just a few short years, this small-town Kentucky pro­gram has gone from hunter to hunt­ed. How? With the details from in-depth data reports.
Through the rolling hills of Western Kentucky in the rur­al town of Benton — found three hours west of Louisville and two hours north of Nashville — a rabid fol­low­ing sur­rounds the Marshall County High School girls' soc­cer team.
Stands are packed for home con­tests. Every game is broad­cast over the radio, with a full play-by-play crew. Facilities for the team, in the words of assis­tant coach Andrew Pagel, are ​"fan­tas­tic".
And in the short time since they adopt­ed Hudl Assist's inter­ac­tive reports, the Marshals have seen explo­sive suc­cess. They won a third straight region­al title this fall (the program's 19th over­all) and reached the round of 16 in the state tour­na­ment, los­ing to the No. 3 ranked team in Kentucky.
"We were chas­ing teams two years ago that we beat in the post­sea­son," Pagel said. ​"Last year we used Hudl Assist, we jumped on it and the ana­lyt­ics helped us tremen­dous­ly. This year we're the hunt­ed — 16 – 2, 17 – 2 — and we're the favorites, and we've used it to fine tune and stay ahead." 
For Pagel, these tools give the Marshals ​"a chance to run our high school soc­cer pro­gram a lot like a small col­lege." What does that look like? 
Possession as a defensive weapon
Pagel knew ear­ly in the sea­son that the team was strug­gling. One rea­son why was a defense that often sim­ply blast­ed the ball up the field. This result­ed in an aver­age time of pos­ses­sion some­where in the 19 to 22-minute range over an 80-minute game. Every team has their own unique ​"sweet spot" for opti­mal time of pos­ses­sion. For Pagel, and head coach Mike Boone, the tar­get is in the 29 – 35 minute range. 
After he paired this data with the vol­ume of shots the Marshals were allow­ing, which broke down to once every two min­utes or so, Pagel issued a chal­lenge in the form of an equa­tion — how can they keep the ball for six more min­utes a game, and there­fore cut down on three shots from the opposition? 
"We try to use the math, and it's easy to sell that way," Pagel says. ​"We can say, look at their time of pos­ses­sion and look at ours, that's why we need to make this extra pass to the right back, ver­sus dump­ing the ball into our forward." 
Pagel likes to be pos­ses­sion-ori­ent­ed as opposed to a defend-and-counter style. He was raised clas­si­cal­ly on the tried-and-true 4 – 4-2 for­ma­tion, with a stop­per and sweep­er, ​"but that's a dinosaur now." The Marshals play a 4 – 2-3 – 1 with an off­set tri­an­gle in the mid­dle, and Pagel is devot­ed to the for­ma­tion, both for its abil­i­ty to over­whelm oppo­nents with num­bers every­where, and for the way it allows for quick counters.
Hard pos­ses­sion goals allowed Pagel to set the bar high ear­ly in the sea­son, when they over­whelmed infe­ri­or oppo­nents. Only 23 min­utes in that easy win? Not good enough. He encour­aged them to make that one last wide pass that gives them the 2-on-1 or 3-on-2 advan­tage up the oth­er side of the pitch. Time to work on tak­ing that pass from the left mid­field­er and link­ing up in the mid­dle, instead of look­ing through to a forward. 
"We can talk through all that, and then show them it," Pagel said.
Less is more in transition
Attack tran­si­tions are one area of the game where more isn't nec­es­sar­i­ly bet­ter. In one game, Marshall County had 101 attack tran­si­tions — way too high and indica­tive of a poor job keep­ing the ball. If you're play­ing against bet­ter com­pe­ti­tion, and play­ing with more bal­ance, you'll like­ly have any­where from 60 to 80 such transitions.
Pagel point­ed to a recent game against Murray High where the Marshals dom­i­nat­ed, but their per­for­mance left Pagel ques­tion­ing how well they exe­cut­ed. Sure enough, when he looked at the pass strings on the reports, he found the goal­keep­er respon­si­ble for a num­ber of unsuc­cess­ful passes. 
Of course this goalie, a return­ing cap­tain and the school's all-time leader in shutouts, was no slouch. But all those acro­bat­ic dives, stops and catch­es are only part of what a goalkeeper's game should be. They have to be able to keep pos­ses­sion, too, espe­cial­ly in today's game where the keep­er can often act as a sweep­er. His goalie wasn't allow­ing enough time for open­ings in the field to devel­op before try­ing to find a pass.
With these points tied to video, Marshall County's goal­keep­er coach knew how to design bet­ter prac­tices to shore things up.
"Shutouts are good, but I also want to see how we can turn it into some­thing bet­ter," Pagel said. 
A call for focus, with purpose
Sometimes a call from the side­line to bring some more ener­gy can sound emp­ty. At Marshall County, the mes­sage comes with a purpose. 
Opponents didn't score that much on Marshall County this year, and when they did, they came at all sorts of times. But over the course of the sea­son, Pagel dis­cov­ered that between the 51st and 60th min­utes, the team sur­ren­dered a goal every oth­er game.
Needless to say, the team start­ed lis­ten­ing to what Pagel said ear­ly in the sec­ond half.
"If I say focus at this time, they know what I'm talk­ing about," he says. ​"I'll yell out ​'Hey, let's focus for these next 10 min­utes', and they give a thumbs up. They know what it means. They know there's that lull in the game that tends to happen."
Towards the begin­ning of games, Pagel found the Marshals would have some­what of a drop-off after the 15th minute, typ­i­cal­ly when they begin sub­sti­tu­tions. Does that mean they should hold off sub­sti­tu­tions? Should they change up and stag­ger a lit­tle better?
Pagel loves look­ing for out­liers, and has found the process more refined through the use of fil­ters to iden­ti­fy trends against com­pe­ti­tion that is more on their lev­el. The more he tog­gled through indi­vid­ual game reports and clus­ters of games, the more he was able to unearth crit­i­cal dis­cov­er­ies like this.
A safer approach with pass strings
With a 62 per­cent suc­cess rate on pass­es in the defen­sive third, well below his goal of 70 – 75 per­cent, Pagel under­stood his team need­ed to be more cau­tious with the ball in their own end — but also that it wasn't all entire­ly on the back line. The goal­keep­er and mid­field­ers bear some respon­si­bil­i­ty too. Seeing these per­cent­ages allowed them to have more informed con­ver­sa­tions about safe­ty, ver­sus risk with decision-making.
Just as high­er pos­ses­sion num­bers don't always indi­cate more pur­pose­ful attack­ing, vol­ume of shots doesn't always mean bet­ter offense. The Marshals aver­aged 5.1 pass­es per string this sea­son. Pagel said he's ​"not always proud" when they aver­age more than six pass­es, because they could just be kick­ing the ball lat­er­al­ly or back­wards a lot, but it's a great stat to keep an eye on. 
"A good team like the No. 1 team in the state might get 12 shots, but three of them are goals, because of the nature of how they pen­e­trat­ed, and they walked it in," Pagel said. ​"We got few­er shots but more goals because our shot qual­i­ty selec­tion was bet­ter. It's not unlike bas­ket­ball — yeah, you're jack­ing up a lot of three's, but is that a good idea?"
Charting suc­cess­ful and unsuc­cess­ful strings also allowed them to be con­struc­tive with their coach­ing, prais­ing great plays while also won­der­ing how the suc­cess in one area can be applied elsewhere.
"You don't have to just say, ​'Why was this wrong?' You can look at the suc­cess­ful ones and say, ​'Attagirl, here's what you did right', and ask, ​'Could we have done this on the one we messed up with?'" Pagel said.
Honing in on shot charts
Below is a shot chart from one of the tough­est teams on Marshall County's sched­ule. Notice the orange dot out­side of the 18-yard box to the right — that's a long goal that came on a rebound out of a cor­ner kick.
As the clus­ter shows, that one play­er was able to get off three shots from that same spot due to a lack of pres­sure. Once Pagel saw that, he moved a for­ward back clos­er to the box, after play­ing up clos­er to the mid­field line. It helped.
Marshall County's own sea­son-long shot chart resem­bles some­thing of a Rorschach test.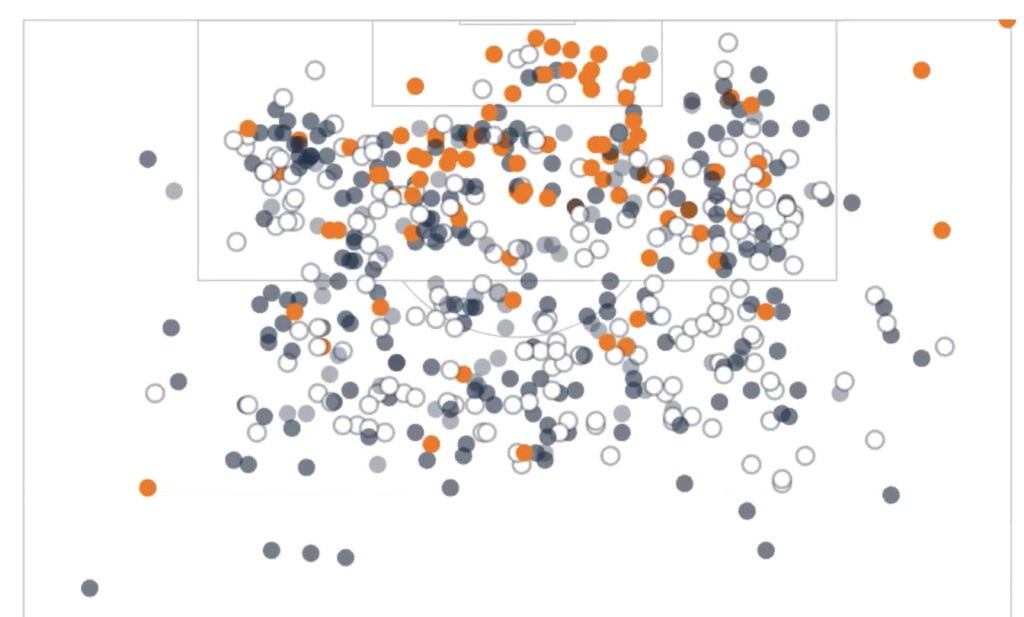 It's a good lit­mus test too. Many of those goals scored inside the goalkeeper's box were made pos­si­ble by a strong for­ward with bound­less ener­gy, Carmen Gunn. 
But with this resource, Pagel could also remind his play­ers con­struc­tive­ly that those oppor­tu­ni­ties won't always be there. Nice scream­er from 25 yards out? Great job, but let's wait for a bet­ter oppor­tu­ni­ty for a high­er-per­cent­age shot. Pretty goal against the run? Good heads-up play, but don't expect the goalie to make a bad mis­take like that next time.
All of it adds up to an expe­ri­ence that makes play­ers feel like they already have the cheat sheet by the time they're ready to play at the next level.
"We feel like the ones we send to col­lege, they will have the tools to run with video and have the pri­or knowl­edge," Pagel said.
***
These are just some of the inno­v­a­tive ways a coach can use Hudl Assist's expand­ed inter­ac­tive reports to hone in on the details that make a difference.
Interested in our Assist add-on?