By Brendan Hall
After see­ing how film study trans­formed the pow­er­ful high school girls soc­cer pro­gram he ran in Maryland, Steven Baxter is return­ing to his home state of West Virginia with all the right tools.
Not all mounds of clay arrive the same.
In tak­ing over the girls' soc­cer pro­gram at Spring Mills High School (W. Va.), Steven Baxter is cut­ting down dra­mat­i­cal­ly on his com­mute time. He can prac­ti­cal­ly walk to prac­tice from his house now, a big change from the 144-mile round trip com­mute he'd made dai­ly dur­ing the sea­son to his pre­vi­ous des­ti­na­tion across the state line. 
The trade-off is the sub­stan­tial build­ing job he's tak­ing on — big­ger than what he inher­it­ed a decade ago at Centennial High (Md.). In nine sea­sons, he coached the Eagles to three region­al finals and a state semi­fi­nals appear­ance in 2016. 
"I used to be like a kid in a can­dy store, and I could mold the puz­zle pieces togeth­er, focus on the tac­tics and things," he said.
In this qui­et Appalachian town nes­tled in the heart of the Mountain State's east­ern pan­han­dle, at a school that opened just five years ago, Baxter is vir­tu­al­ly start­ing fresh with a pro­gram that sur­ren­dered 80 goals in 2018. Holding the glass half full, there's plen­ty of room for the Cardinals' young pro­gram to grow.
But with that raw­ness comes a lot more work. There's good bones on the pro­gram, with sev­er­al high-cal­iber play­ers. On the con­trary, when asked where there's the most oppor­tu­ni­ty to improve the pro­gram, Baxter chuck­led, ​"The sim­ple answer? Everything."
It will start in the back end, where Baxter prides him­self on a com­pact, lay­ered defense that makes spac­ing hard to come by. This time around, though, he has more resources at his disposal.
Baxter's Moment of Clarity
In many ways the 2016 sea­son at Centennial was a water­mark year for Baxter, both for the Eagles' run to the state semi­fi­nals, and for how much more game film he was using to imple­ment his coach­ing prin­ci­ples. Baxter fond­ly recalls the region cham­pi­onship game that year, where thanks to some film he acquired, he was able to tai­lor his strat­e­gy specif­i­cal­ly for a Westminster squad that was loaded with high-end talent. 
Without film, Baxter said, ​"We would have been over­whelmed and try­ing to fig­ure things out dur­ing the game." Instead, they dom­i­nat­ed, out-shoot­ing their oppo­nents and tak­ing twice as many cor­ners, en route to a 4 – 0 win.
The next year, Baxter got his own Hudl account — the rest is his­to­ry. Baxter has brought plen­ty of film from his pre­vi­ous stop to show the Cardinals how he wants to play.
"Maybe I've got too much of an ego or maybe I believe in myself too much, but I know coach­ing makes a dif­fer­ence in every sit­u­a­tion," Baxter said. ​"I've been with high schools since 2009, so I think I'm lucky to have the oppor­tu­ni­ty to have the great footage I've put togeth­er from Centennial to share with these girls. It's just awesome."
Of the many Centennial clips he pulls out to show his new team, there's a com­mon theme — thor­ough, com­pre­hen­sive details poured into every move­ment. There isn't a wast­ed oppor­tu­ni­ty to cre­ate teach­able moments through video analysis.
"I've been with high schools since 2009, so I think I'm lucky to have the oppor­tu­ni­ty to have the great footage I've put togeth­er from Centennial to share with these girls. It's just awesome."
Steven Baxter, Head Girls Soccer Coach, Spring Mills (WV) High School
Compacting the Defense
Any well-coached team will tell you that you must get com­pact and be orga­nized when defend­ing. It's not uncom­mon for a high-per­form­ing team to defend with any­where from sev­en to nine field play­ers, depend­ing on their tal­ent and what kind of for­ma­tion they're run­ning. Based on film from pre­vi­ous sea­sons, Spring Mills has some holes to clean up in the defen­sive third. At times, their defend­ers weren't high enough up the field to sup­port the attack or pos­ses­sion, leav­ing 60 to 70 yards of spac­ing between the back line and the for­wards, with the mid­field­ers scat­tered about. They didn't get back quick­ly to defend, leav­ing things wide open and disorganized.
Baxter is par­tic­u­lar­ly fond of one clip from his 2016 team that per­fect­ly illus­trates how good defens­es com­pact in the mid­dle third. In a man­ner of sec­onds after los­ing the ball in the mid­dle of the field, mid­field­ers and defend­ers have already cut off pass­ing lanes, both at close range and to the oppo­site side­line. They force the oppo­nent to make a neg­a­tive pass and play the long ball, which gets eas­i­ly overturned.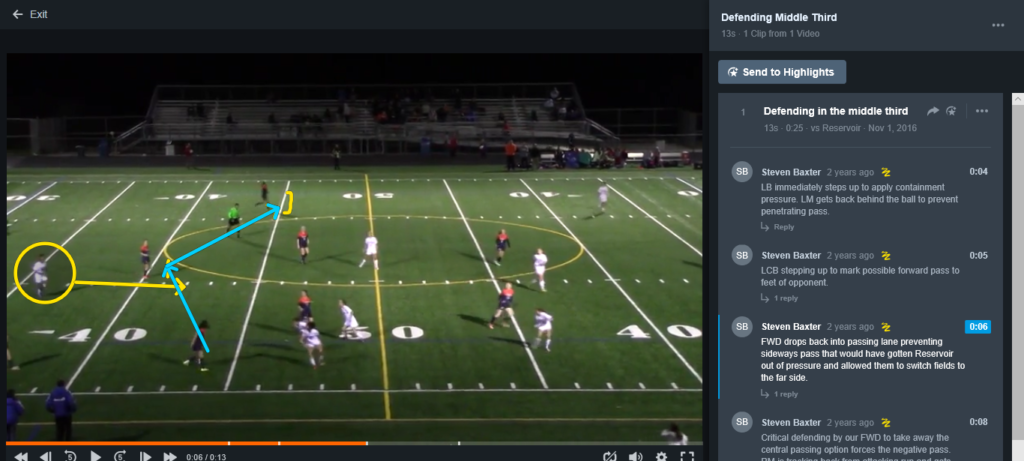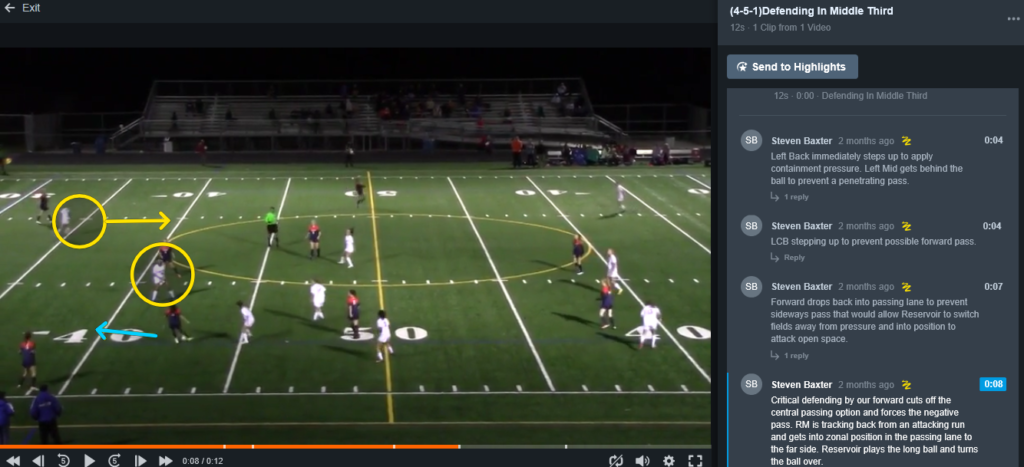 Baxter's critical attention to detail is reflected in his video analysis workflow.
These may not seem like viral, high­light-wor­thy plays like the ones that pop­u­late your TV screen or social media feeds. But lots of these lit­tle clips add up to a sound defen­sive phi­los­o­phy that makes oppo­nents work for every inch.
Owning the Box
At Centennial, Baxter had a great run of goal­keep­ers over the years, includ­ing one who cur­rent­ly plays at Marshall University. At Spring Mills, he inher­its a long, ath­let­ic keep­er and sees plen­ty of oppor­tu­ni­ties where she can own the space in front of her.
To explain what he's talk­ing about, he calls up a goal allowed from that great 2016 Centennial sea­son that under­scores the impor­tance of being aware of the space around her. From where she was, 4 – 5 yards from the goal line, and with the scor­er near the 30-yard line, Baxter shows that the keep­er is com­plete­ly beat­able 24-feet wide and at the two feet below the cross­bar. If she was back on her line or even one step off, she prob­a­bly could have made the save.
"So, here's an exam­ple of a kid who's not in posi­tion, she can't make the save because of where she's putting her­self," Baxter says. ​"It's a coach­able point. You've got to rec­og­nize, when peo­ple are in shoot­ing range, if you're one step off your line, you can do a drop step for a tough save, but you're not giv­ing up the entire goal. You're mak­ing them beat you with a good shot, not just putting it on target." 
"Film don't lie. I'm just try­ing to keep it real, because you don't get any­where by sug­ar-coat­ing and cov­er­ing things up. Just look at the film."
Steven Baxter, Head Girls Soccer Coach, Spring Mills (WV) High School
Armed with lap­tops in the class­room, film has allowed Baxter to bridge those tough con­ver­sa­tions with young ath­letes. It's easy to deflect blame for any error on the pitch. He knows many of his ear­ly con­ver­sa­tions will be about own­er­ship. And there's no bet­ter teach­ing tool than your screen.
"A lot of times peo­ple and par­ents, kids of that nature, they have a pre­con­ceived notion that it's some­one else's fault," Baxter says. ​"But film don't lie. I'm just try­ing to keep it real, because you don't get any­where by sug­ar-coat­ing and cov­er­ing things up. Just look at the film."