This article and other helpful coaching tools can be found at Coach Dawn Writes
By Dawn Redd-Kelly
If you've been reading this blog for a while, then you know I'm a huge fan of TEDtalks. I just watched a great one by a principle of an especially under performing school. Linda Cliatt-Wayman's talk gives details about just how bad the situation at the school was when she arrived…and it's depressing.
But for those of you out there who are taking over a team that has historically underachieved or are looking to turn around the fortunes of the team you coach, her talk should be inspiration for you. Paraphrasing one of many awesome points from her talk for our purposes, low expectations from coaches play a major role in the destruction of a team's culture.
So how do we fight the inertia of low expectations? Here are the three points to she said helped guide the amazing turnaround of her failing school.

3 Steps To Turn Around Your Underachieving Team
If you're going to lead, LEAD. First things first, assemble the best leadership team you can…assistants, captains, etc. Cliatt-Wayman emphasized the importance of not hiding from the problem and being able to change things that aren't working. At their best, leaders make the impossible possible. She also discussed making sure her students knew what her non-negotiables were…what are yours? Mine are athletes who walk in the gym and don't put their teammates first and don't bring a competitive mindset.
So What? Now What? Of her three main points, this one is my favorite. She says the primary responsibility a leader of an underperforming team has is to eliminate excuses. When I think of times when my team hasn't reached their goals, there were always many excuses and not many players accepting responsibility. Cliatt-Wayman's point is to challenge our athlete's view of the problem…so what we have a lot of injuries, what are you going to do to step up? So what you lost your starting spot, how much harder are you willing to work to earn it back?
If nobody told you they loved you today, remember I do. Our players need to know that we care about them as people and not just what they bring to the team. It's our job to believe in the possibilities of our athletes. So whether you have organized meetings, text/call your players, or use your warmup time to chat with your athletes, taking time to get to know them will make everyone's experience much better.
I certainly am not here to say that turning around an under performing team will be easy, but it can be done. Have a plan, have high expectations, and care about your athletes.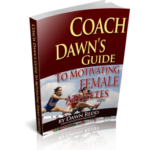 Are you tired of walking into practice and seeing lackluster effort from your players?  Have you had it with trying to get your female athletes to care about the team as much as you do??
Click here to find out more about Coach Dawn's eBook: Motivating Female Athletes
Comes with a FREE PowerPoint presentation called Guarantee Your Success: Using John Wooden's Pyramid of Success To Increase Your Team's Cohesion.