By Kieran Furse
The modern game requires all 11 of the players to have good technical ability with the ball. If all players do not have this, then the team will struggle to dominate possession in the game.
Recent coaches such as Pep Guardiola have shown how playing possessive soccer can tire ultimately, defeat opposition teams. However, this style and philosophy did not originate from 11v11 classic soccer play.
Moving down the list from the best players of all time, the majority all began their journey playing street football. The relaxed nature of this game sparks creativity and improvisation. 
Street football is the foundation for what we now call, Futsal. The smaller, more congested nature of the game allows for more excitement in a game. 
Players gain more touches making them develop their technique and movements dramatically. This is why the top coaches incorporate Futsal and small sided games into their practice regularly. 
Coach Daniel, who was previously the England Futsal u23 head coach, is an advocate for focusing on futsal principles in practice for 11v11 soccer.
Currently the head coach of the Bay Area Futsal Club, he has made a course on why and how to incorporate this into your practice. He bases his theories around in-game examples, as well as scientific data from several studies.
(Click on images to play videos)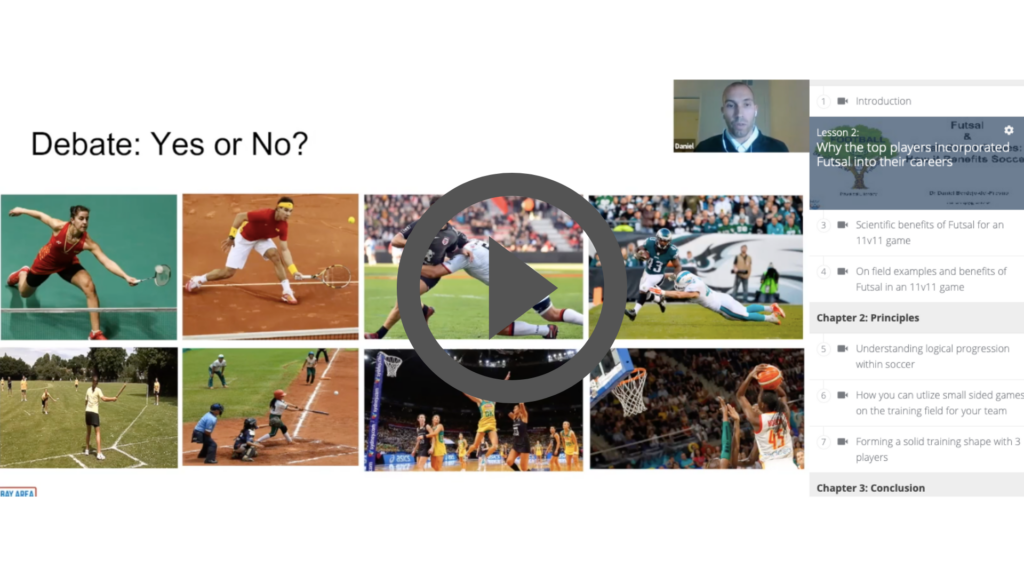 Soccer and Futsal are two very similar sports, both in the rules and the techniques. Coach Daniel highlights how top professionals dedicate their first touch, flair, and passing to this street style sport of Futsal.

(Click on images to play videos)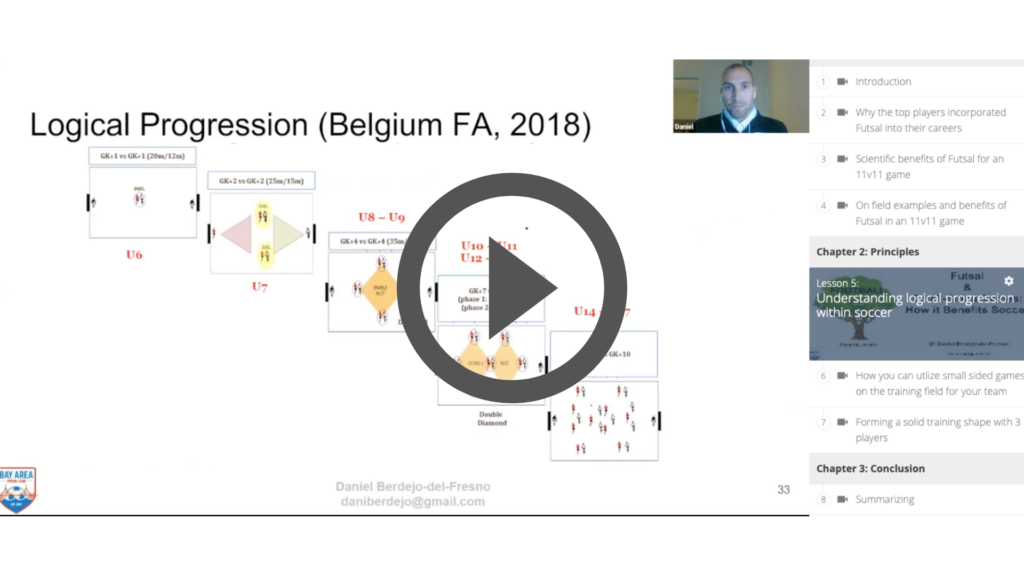 Focusing on examples in Europe, Coach Daniel explains how the top countries are changing their grassroots setup to focus on these futsal concepts. He highlights the progressions that he operates in his setup and references the elite models within that.
When practicing, full sided games can sometimes favor certain areas, meaning that only one area of the field is being developed. This course not only explains the incredible benefits that come from Futsal, but also a step by step plan out how to easily implement this in your team.
These clips are taken from Coach Daniel's Coaching Course. To learn more click this link:  Futsal and Small Sided Games.