By Luis Gonzalez    
We know the Soccer season is kicking back up and it wouldn't hurt trying out new tactics and styles to improve your style of play. Describing and measuring different styles of play that soccer teams can adopt during a match is a very important step towards a more predictive and prescriptive performance analysis.
There are many styles of play; such as core style, focusing on defensive and offensive soccer. Attacking styles showing direct and short plays. Defensive styles targeting aggressive and cautious press and Composite styles which incorporate multiple styles. 
A team's playing style is a subjective concept that relates to the team's overall use of playing methods. There are essentially an unlimited number of different playing styles that your team can use. … When implementing a playing style, a team should consider the player suitability of its practice.
With the game evolving consistently, there are new styles and tactics that you can apply to not get left behind. Smarter decision making can quickly pivot the direction of the game making tactical decisions more efficient and effective. 
Joan Oliva is the Head Coach for Louisiana Krewe FC. Born in Barcelona, Spain. Coach Oliva brings a wealth of knowledge and experience from his team with FC Barcelona as a youth coach, not to mention he has coached on five continents. Following his years in Spain, Oliva became Head Coach for CD Primeiro D'Agosto. Coach Oliva holds one of Soccer's highest licenses, the UEFA PRO License. Oliva is currently the Technical director of Dynamo Juniors Soccer Club, an affiliate of the Houston Dynamo of the MLS.    
Joan Oliva teaches how to use a tactical approach before games, Individualize concepts that fit certain team players and organizational practices to target team improvements. As well as Integrated training and physical preparation to achieve peak performance for upcoming games. (Click Image below for video )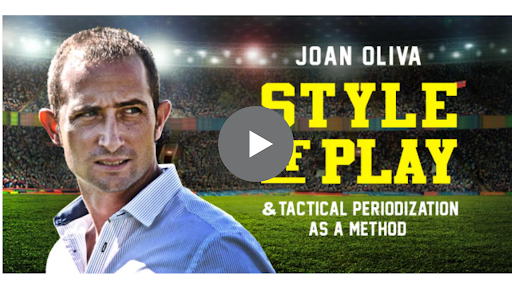 Coach Oliva has created a complete coaching course that this clip was taken from. If you are interested in learning more about that course you can click the following link: Style of Play
Always be improving,
Luis Gonzalez