If you are looking for a nice recovery drill  that can incorporate up to 20 players try this 5v5 plus 5 drill.
In the animated video below Coach Tom Mura from World Class Coaching describes the 5v5 plus 5 drill.
The set up is that you have 4 teams of 5 players.
Two teams of five are paired against each other with both teams playing 3 back and 2 up. A third group of 5 plays as neutral players. Tbe neutral team will play one player in the middle and 4 will play as wingers with two on each side.  The wingers are allowed only 1 touch or 2 if serving the ball.
The fifth team is rotated out and plays a 4v1 game on the side as they wait for their turn.
Each team will rotate so that every team plays each, plays as a neutral team and plays the 4v1 game on the side.
The YouTube video below has audio, so please make sure that your speakers are on and that you have access to the site. Please note that some schools block access to YouTube.
Recommended Coaching Resource: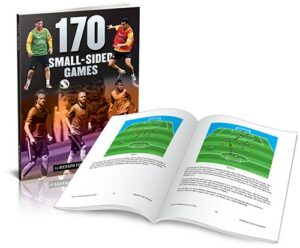 170 Small-Sided Games features a collection of 170 small-sided training drills specially designed to meet the demands of the modern game and to improve your team in every area. Whether it's passing, tackling, dribbling or decision making, this book has a drill that will help you accelerate their improvements due to the pressure and number of touches players get from small-sided games.