It's time to elevate your game! 
Have you ever had a private lesson from a soccer legend? 
There is no better learning curve than to have a secret to success guide on fundamentals by two true professionals. Mia Hamm and Ian Sawyers. 
Mia Hamm is a two time olympic gold medalist and a two time World Cup Champion. A true US Icon. In her prestigious and record breaking career, She was named Sportswoman of the Year by the Women's Sports Foundation in 1997 and 1999. 
 In December 2000, Hamm was named one of the top three female soccer players of the twentieth century in the FIFA Female Player of the Century Award. She's taking it a step further and becoming your personal soccer coach. 
Ian Sawyers is an American soccer coach. He played professional soccer for the Rotherham United club. Sawyers was named head coach of the Bay Area CyberRays. The CyberRays won the inaugural WUSA championship, and Sawyers was named WUSA Coach of the Year for 2001.
It's important to know how to approach the game and your opponent. It doesn't matter if it's 3v3 or 11v11. Beginning with footwork to step over  to instep passing. The best way to become a force on the field is to master those individual skills. 
There is no secret that Core skills and fundamentals are essential in the game of soccer. 
With the season approaching, there isn't a better time to master your skills.
In this course Mia provides you with the fundamentals to build a foundation to achieve and attain your goals. She breaks down how to develop your skill set, and be effective in the game. Focusing on dribbling, passing and shooting. All the tools she learned and used to become a legend. As well as Ian Sawyer demonstrating how to be a great coach. 
( Click the Image below for video )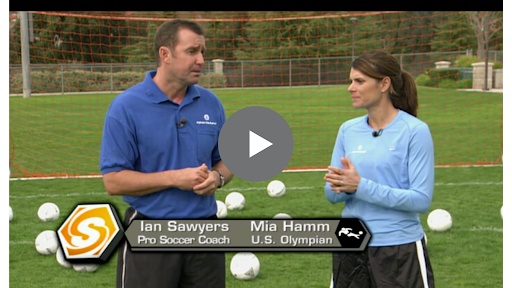 This video clip was taken from a complete coaching course with Mia Hamm. To learn more about that course click the link: World Cup Soccer with Mia Hamm